CSFTW alum Callie Salls featured on Plaid for Women.
Article by Sarah Webb.
Plaid: When you aren't in the kitchen, where would we find you and what would you be doing?
Callie: Drinking some vino and snacking on some appetizers at a local Fort Worth restaurant.
---
Plaid: What was your inspiration for becoming a chef?
Callie: Growing up, I was always obsessed with cookbooks and food in general. My mom would have PBS playing with Chef Rick Bayless and I would read Alice Waters and Ina Garten recipes as leisure. This sparked my love for food.
---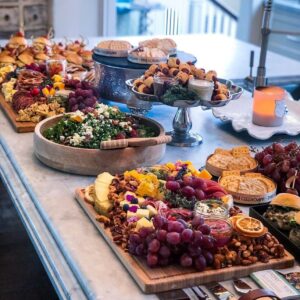 Plaid: What do you find most appealing about expressing yourself through your food?
Callie: My background is in Art and I also minored in it from TCU. Cooking is my daily way to express my artistic view to the world.
---
Plaid: What was the driving force behind starting Linguine & Dirty Martinis and more recently, Meyer & Sage?
Callie: I started Linguine & Dirty Martinis almost 12 years ago when I was still in culinary school. Local friends and clients began requesting my services to cook for parties and to cook weekly meals, and it all started there. Meyer & Sage was my husband Allan's idea. We were looking for a way to connect and expand our personal chef services to a larger demographic and we did this through Meyer & Sage. We have a group of very talented chefs and we work out of a commercial kitchen providing weekly meal delivery services as well as grab&go and oven-ready meals to our brick & mortar shop in The Foundry District.
---
Plaid: Is your husband Allan a chef? Do you work in the business together? You mentioned he gave you the inspiration for Meyer & Sage.
Callie: Allan's background is in corporate finance from TCU– we met there in 2004. After a stint in the corporate world, he went to work for himself writing computer code and designing websites. He designed the websites for both of my businesses. We now work in business together 100% of the time after beginning Meyer & Sage. We have completely different responsibilities, but of course, they always overlap owning a small business.
---
Plaid: What is the main difference between these two ventures?
Callie: Linguine & Dirty Martinis is an in-home personal chef service. Meyer & Sage is a delivery service and brick & mortar culinary studio and grab & go shop, also with meals cooked by professional chefs.
---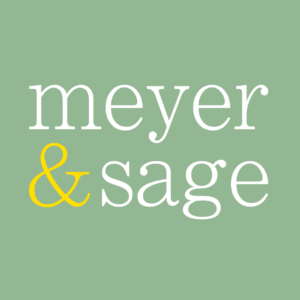 Plaid: With all of the food delivery options nowadays (i.e. Uber Eats, Door Dash, etc.) that deliver from many different established restaurants, what makes Meyer & Sage different and stand out from the pack?
Callie: The finesse from our chefs and the high quality of ingredients we use. We make everything from scratch- including our aioli. The chicken is always pastured and organic, the salad greens are always organic, the meat is humanely and sustainably raised, the spices we use are fresh and local. It makes a huge difference in the final product.
Read the full article here.